Legal Poker For Florida Residents
Florida has not regulated any form of online gambling, but it has definitely regulated some forms of land gambling, including poker. The state's residents can legally play poker for real money at any licensed casino or dog track, but not at unlicensed gambling facilities.
This page provides a brief overview of live and online poker laws in Florida. Besides providing an expert opinion on the legality of playing real money online poker at offshore poker sites, we have provided a list of well-researched online poker sites that accept Florida players.

Florida Poker Laws & Statutes
Playing poker for money is legal in Florida as long as it is done in licensed and regulated establishments. The state's definition of gambling is so broad that it can be interpreted in several ways; besides, the state deals strictly with operators who run gambling businesses without a license.
According to Section 849.08, residents will be guilty of a second degree misdemeanor if they wager anything of value on games such as card games, roulette, keno, or any other game based on luck. The use of gambling devices is also forbidden until and unless they are approved and authorized by the state. Florida has a separate law for "games of skill," making it illegal for its residents to place bets on the outcomes of games requiring skills and strategies to win.
While Florida tends to let off players lightly, it deals in the strictest possible manner against operators running unlicensed poker games + operations within its jurisdiction. Illegal operators can be booked on serious charges such as racketeering, but the state hardly cracks down on players caught taking part in games at those illegal establishments... but it will be noted.
Social gambling, under certain circumstances, is perfectly legal in Florida as long as players have completed 18 years of age and nobody profits financially from the games.
Is it Legal to Play Online Poker in Florida?
There is no law in Florida's law books that specifically states that it is against the law for residents to register real money accounts at offshore online poker rooms and play online poker games for real money. Since Florida cannot use a non-existent law against it residents, one may safely say that it is legal and safe for Florida poker players to play online poker at offshore online poker rooms. Since the state lacks proper online poker laws, it is in no position to license and regulate any online poker company to run poker sites in its jurisdiction. Players will, therefore, not find any Florida-licensed online poker room, but they can safely register at any of the offshore online poker rooms we have mentioned on this page.
Can I Get into Trouble for Playing Online Poker Florida?
As an individual poker player in Florida playing for real money at an offshore online poker room, you will never get into trouble with your state's law-enforcement agencies. In the first place, Florida laws do not specifically prohibit residents from playing real money poker online. Second, the online poker rooms accepting Florida residents are all based in foreign countries far away and have nothing to do with Florida's gambling laws. Licensed and regulated in offshore gambling jurisdictions, they do not come within Florida's jurisdiction.
You have reason to worry only if you are trying to run an online poker business without getting the state's permission. The state's laws are designed to curb the activities of illegal operators, owing to which it does not tolerate any illegal gambling business in its jurisdiction.
Legal Poker Sites That Accept Florida Players
In many states across the continental US, residents have an overwhelming curiosity about legal online poker and almost no access to quality information. Florida is no exception. Listed below are several good online poker rooms that cater especially to Florida residents, all thoroughly tested and verified as safe and legitimate.
Bovada Poker - Most Trusted Online Poker Room For Florida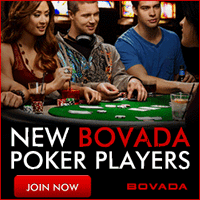 Florida residents should always start with the best. Since its activation almost 20 years ago, the Bovada online poker room has been open to US citizens and serving Florida residents for that entire span of time. In that time, this legal poker site has developed into not only one of the easiest to use legal online casinos on the entire web, but one of the most complete. Whether a players prefers tournament play or to merely sit in on a game for a couple of hands, Bovada provides all the features needed to get the absolute most from a legal online poker experience.
As if it weren't enough to simply have access to some of the highest quality online poker experiences available, more and more Florida residents are finding that one of the best bargains in the history of bargains is available with Bovada. When a new account is activated and funded for the first time, it will is eligible to earn 100% of the deposit back just from remaining active and participating in poker games. Win or lose, all Florida residents have the ability to claim this excellent bonus from the Bovada poker room. Check their promotions tab for details, and be sure not to miss out!
BetOnline Poker - All Florida Players 18+ Welcome Here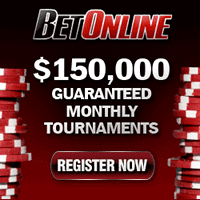 Florida residents who wish to check in with more online poker rooms are urged to log on to BetOnline. Although BetOnline is a relative newcomer to the game, it's one of the fastest growing legal poker sites around right now, and Florida residents are getting hooked. Maybe it's the fact that the BetOnline network comes endorsed by major media outlets like CNBC and FOX, but Florida residents are not only getting comfortable with the idea of an account with this top notch poker site, they're loving it!
BetOnline poker room offers hundreds of ways to earn through playing poker, and a quick visit to their tournament page will show off just a few of those examples. The legal poker room for Florida residents has a tournament for every budget and skill level, and they give away more guaranteed money than any online poker room in existence. Take advantage of specialty tournaments, such as tournaments centered on Valentine's Day or 4th of July and see that not only can incredible profit be earned playing legal online poker, but that it can be great fun.
| Legal Florida Poker Sites | Welcome Bonus | What To Play | Site Rating |
| --- | --- | --- | --- |
| Bovada Poker Play / Sign Up | $1,000 FREE - 100% Match | Hold'em - Omaha Hi/Lo - Stud Hi/Lo | |
| BetOnline Poker Play / Sign Up | Maximum $1K: 200% Rate | Texas Hold'em - Omaha Hi/Lo | |
| SportsBetting Play / Sign Up | 200% Match / $1,000 Max | Texas Hold'em - Omaha Hi/Lo | |
| 5Dimes Poker Play / Sign Up | Vary Weekly - Check Website | Texas Hold'em - Omaha Hi/Lo | |
Does Florida Have Legal Land-Based Poker?
Players can safely and legally play poker for real money in Florida as long as they are playing at a state-licensed commercial casino or other approved poker venue like somewhere with horse racing or greyhound racing. Organizing and taking part in home poker games is also legal as long as the house does not accept a commission for running the games. Playing poker for real money under any other circumstances is not permitted by the gambling laws in Florida. Again, it is worth noting that Florida's poker laws are geared toward illegal operators, not players taking part in real money poker games.
Legal Land-Based Poker Rooms For Florida Players
There are a number of licensed and regulated commercial casinos and Indian casinos where players can play real money poker games in a licensed, safe, and regulated gambling environment. Players will find top poker gambling facilities in Daytona Beach, Jasper, Fort Pierce, Melbourne, Margate, Miami, Naples, Okeechobee, and other parts of Florida. A list of some casinos with live poker rooms are Daytona Beach Poker Room, Seminole Coconut Creek, Isle Casino Pompano Park, and Melbourne Greyhound Park.
Players can also legally play online poker game for real money at Florida friendly online poker rooms, which are licensed and regulated in offshore gambling jurisdiction. Though based in foreign countries and not regulated in Florida, these offshore online poker sites are 100 percent legal. Players can play real money poker in a safe and secure gambling environment at any of the online poker sites recommended on this page.
Future of Poker/Online Poker in Florida
Florida is least likely to follow in the footsteps of US states such as florida, Nevada, and New Jersey. Florida is a state of conservative voters and legislators, who disapprove of all forms of gambling, although there are a few supporters of online poker legalization.
Florida lawmakers are hardly motivated to propose any online poker bills; besides, the state is home to several casino-owning tribes, which are against online poker legalization because they feel that it might hurt their land casino businesses. Recently, Florida cracked down on Internet sweepstakes and tweaked its laws to include language against Florida friendly online poker rooms, owing to which a few online poker rooms withdrew from the Florida market. Online poker legalization is something that may not happen in Florida for a long time.